Do you want reassurance that your eyes are healthy?
Do you want to know that you are seeing as well as you should be or whether your vision can be improved?
At Frost Borneo, our award winning, fully qualified Optometrists and Dispensing Opticians can provide you with professional eyecare, commitment to your long-term visual health along with the very best lenses and stylish frames to suit your lifestyle.
We will examine your eyes using the latest technology to give you  peace of mind that they are healthy. We will also advise whether your vision needs correcting or improving with a new prescription.
We recommend regular eye examinations as advised by our Optometrists depending on your age and ocular and medical history.
Optomap® retinal examination
Do you want peace of mind that the back of your eye, known as the retina is healthy?
Would you like to be assured that there are no signs of changes due to high blood pressure, diabetes or other
retinal problems?
Ask us at Frost Borneo to carry out an Optomap® retinal scan. We recommend it to all our patients to give that peace of mind that you are looking for.
It only takes a few minutes to capture the images of the retina. Our Optometrists are highly experienced in reviewing Optomap® scans and can therefore quickly explain the results to you. Regular Optomap® scans allow us to build a picture of your eye health over the years.
Frost Borneo also recommend an Optomap® for children, they love it and then you know their eyes are healthy too!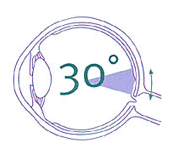 Standard examination:
Only a small portion of the retina is visible at one time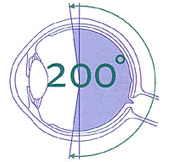 Optomap® examination:
Majority of the retina visible in one image
3D OCT
As we get older our eyes change and we can develop problems with the macula, the part of the retina that is most important for seeing detail and the vitreous jelly that overlies the macula. We can also develop glaucoma, especially if there is a history in the family.
At Frost Borneo we can give you peace of mind that the macula is healthy by carrying out a special scan called a 3D OCT. It takes only a few minutes and allows us to discover early changes due to an increase in pressure caused by glaucoma.
This special camera uses light waves to build a picture of the ten layers of the retina. The Optometrist will go through the results of the scan with you, looking in great detail at the health of this part of the eye. All Optometrists at Frost Borneo are highly experienced in reviewing 3D OCT images and can therefore pick up any changes very quickly.
Frost Borneo particularly recommend the OCT scan to older patients and when used in conjunction with the Optomap® Retinal scan it allows us to build up an excellent picture in 2D and 3D of the back of your eye.
Get peace of mind with the Optomap® and 3D OCT retinal scans!
Dry Eye Clinic
Do your eyes feel dry or irritated or do certain activities, like reading or computer use make your eyes feel
scratchy? Have you found your contact lenses are gradually becoming less comfortable and your wearing
time has decreased? Do your eyes water excessively?
If you answer yes to one or more of these questions then you may have dry eyes. This is a common problem but you don't have to live with it! This condition is related to the quality and quantity of the tears produced.
Persistent symptoms of dry eyes or excessively watery eyes can be miserable. If you are suffering please arrange a dry eye assessment with Jason Smith.
If you have joined MyVision your Dry Eye Assessments and follow up appointments are included.
If you are not a member of MyVision an initial assessment is £60 and all follow up appointments are £30.
A plan of action will be formulated and put into place. Follow up appointments generally occur 8-12 weeks later to ensure all is progressing well and to fine tune or change treatment as necessary.
BlephEx Treatment for Blepharitis
Blepharitis causes build up of debris on the edge of the eyelids. Over time the debris, which may not be visible to the naked eye, blocks the oil glands, disrupts the tears and allows bacteria to thrive on the eyelids causing further complications.
BlephEx is the first and only clinician treatment available for Blepharitis. This revolutionary, patented hand piece is used to very precisely and carefully remove debris from and exfoliate the eyelids.
Jason Smith (FBDO CL) who carries out the treatment has already seen amazing results in the reduction of blepharitis in patients receiving BlephEx. Please call us for more information or to arrange a consultation.
Initial BlephEx treatment (50mins) £140
Follow up appointment (30mins) £75
BlephEx treatment is not covered by the NHS
For any further information please contact Jason Smith FBDO CL